Beer Bracketology with Ore Dock Brewing Company
March 16, 2019 @ 2:00 pm

-

5:00 pm

CDT

$19.95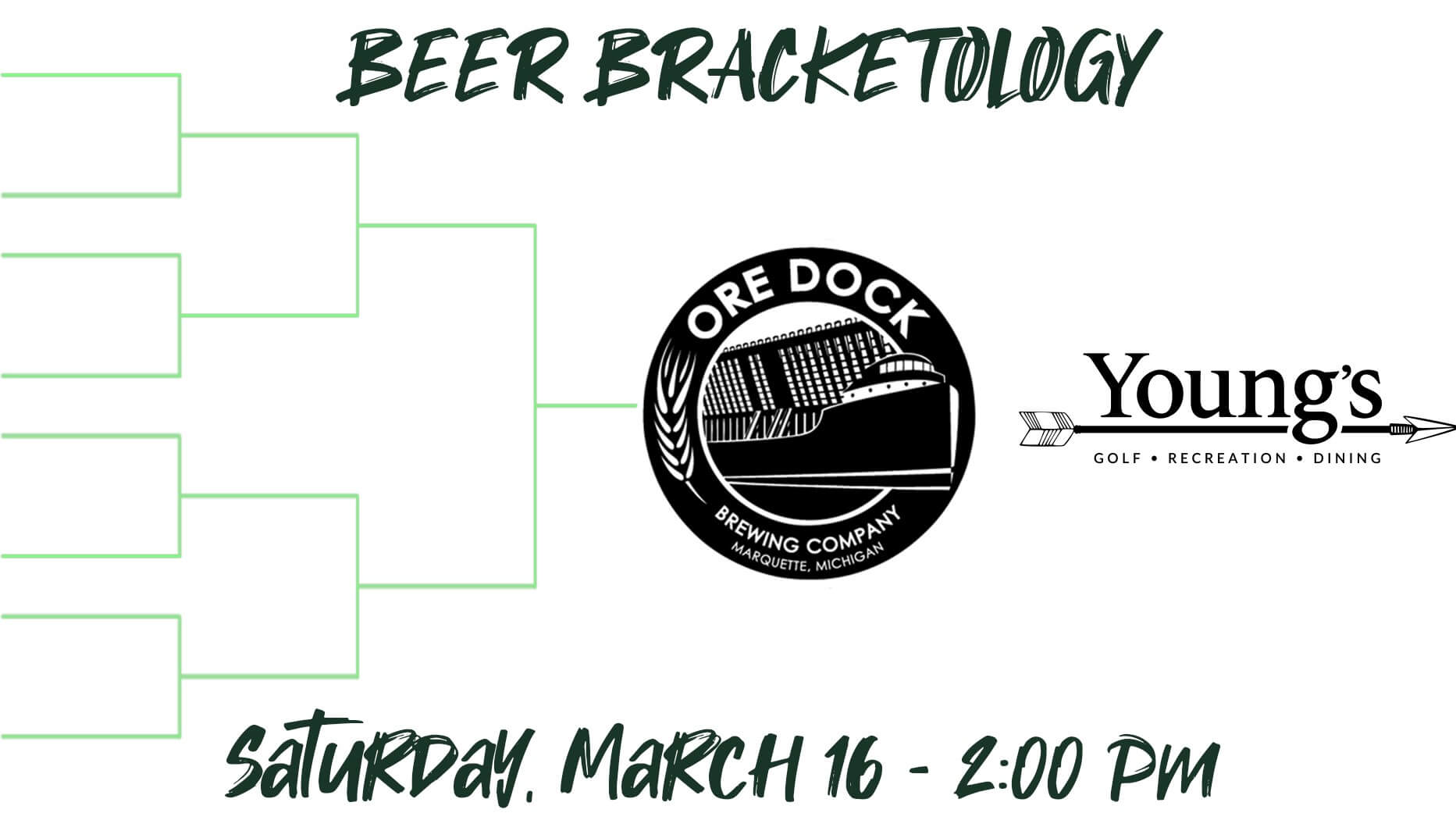 We are excited to welcome back Ore Dock Brewing Company of Marquette, MI for our 2nd Annual Beer Bracketology event.
Ore Dock Brewing Company will be providing eight elite craft beers for a bracketed battle. Each beer will go head to head with attendees picking which beer advances to the next round.
A buffet of appetizers will be served during the tastings.
This exciting event will take place on March 16, 2019 and starts at 2 pm.
Reservations are required and spots are limited.
Call the Pro Shop at (906) 265 – 3401 to reserve your spot.
Which beer will you choose as the champ? Will there be an upset? – YOU decide!
Beer List
Reclamation IPA 7.0%  70 IBU
American IPA
A well balanced "mid-coast" IPA brewed with Cascade, Columbus and Chinook hops, held up by a strong malt backbone.
Porter 5.6% abv  30 IBU
American Robust Porter
Eight different specialty malts lead the way to a medium bodied, yet complex dark ale. Balanced flavors of coffee and chocolate are the first to arrive on the palate.
Fresh Coast BIPA 7.5% abv  65 IBU
Belgian IPA
Hop flavors of citrus and bitter grapefruit shine bright. As cold and refreshing as Lake Superior herself.
Blond 8.0 abv  25 IBU
Belgian Blond
A traditional Belgian yeast showcase. Medium body, with flavors of apricot and hints of honey.
Bums Beach Wheat 5.8% abv  30 IBU
American Wheat
Our take on the classic American wheat beer. Light to medium body with a creamy mouth feel, flavors of lemon citrus abound.
Saison 7.1% abv
Belgian Farmhouse
Light, crisp and dry, our traditional farmhouse ale finishes clean with a hint of citrus.
Good Grist 5.8% 30 IBU
American Amber
Our Amber ale is crafted in the traditional fashion and then the gluten is removed during fermentation. Nuances of caramel with a smooth hop bitterness to the finish give you all the flavor with out the belly ache.
Weather Beard 5.8% 30 IBU
Norwegian Wheat
Experimental ale brewed with Voss Kveik yeast lending to flavors of orange citrus with a creamy wheat body.  Picture the beer version of an orange dreamsickle.