WINTER FAT TIRE BIKING

AT YOUNG'S

Trails Open For Fat Tire Biking in Upper Michigan!
Mountain biking in the winter? Great winter fun for the cycling enthusiast awaits at Young's! Experience a whole new bike trail adventure on a Fat Tire Bike. The oversized tires of a Fat Tire Bike allow you to "float" on the snow, making once inaccessible trails open for winter fun!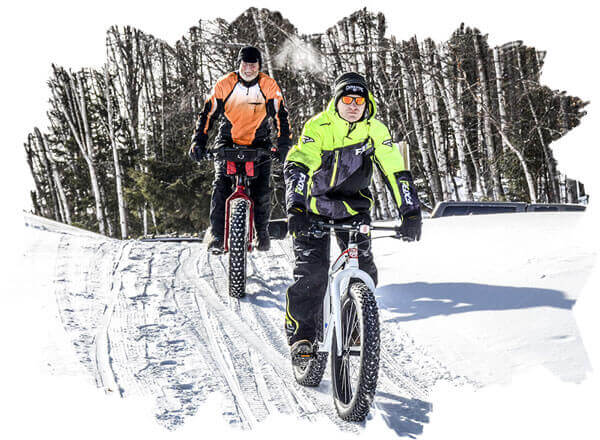 Fat Tire Biking at Young's Iron River
We have over 7 miles of Fat Tire Bike Trails that loop around Scott Lake and are easily accessible from the Complex just across County Road 424. Here's what you need to know to plan your trip to Young's Fat Tire Bike Trails:
Fat Tire Bike Trails Are Free - All of our snow trails are open to the public free of charge. All bikers are asked to please check in at the Pro Shop before hitting the trails. After enjoying the trails let us know about your ride and enjoy a bite to eat and a drink at FireBrick Bar & Grill or warm up in the Aquatics Center.
Plan Your Route - Plan your day of biking and get a taste for the trails with our interactive TrailGenius Map. Check out pictures of the trails, mileage, and video of mountain bikers cruising through the snow!
Bring Your Bike and Gear - Bring your fat tire mountain bike and enjoy a day of pedaling through the snow! Remember to dress for the weather and always wear a bike helmet.
Question? Give us a call!