GOLF & LODGING PACKAGES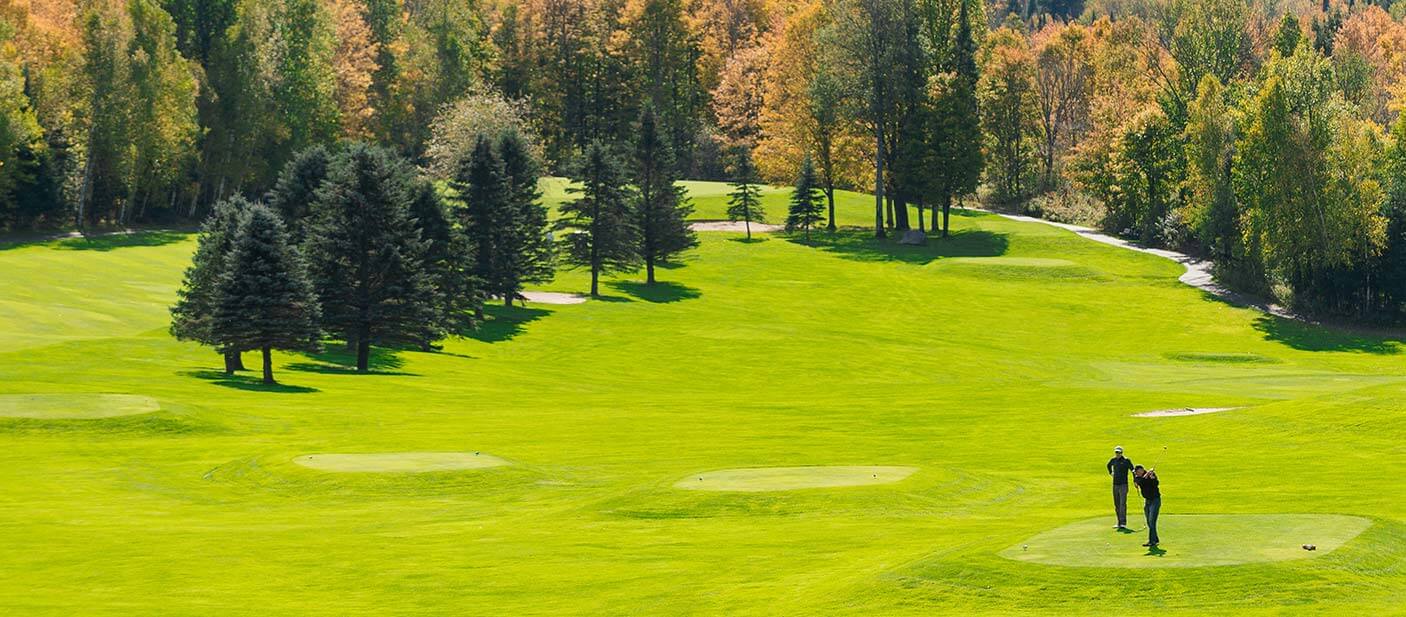 Stay and Play Golf Packages at Young's
UP Michigan Golf and Lodging
Make your visit to Young's a true getaway with a Stay and Play Golf Package! Stay on the golf course in our beautiful, rustic log cabin overlooking Chicaugon Lake and enjoy easy access to golf, recreational trails and lakes. We even provide shuttle service from the cabin to FireBrick Bar & Grill and the Pro Shop! If you prefer to stay at a local Iron County hotel, we also off Stay and Play packages with hotels in Iron River. All of our Stay and Play packages include golf discounts, free driving range token and free swim pass for Young's Aquatic Center!

FAMILY CABIN RENTALS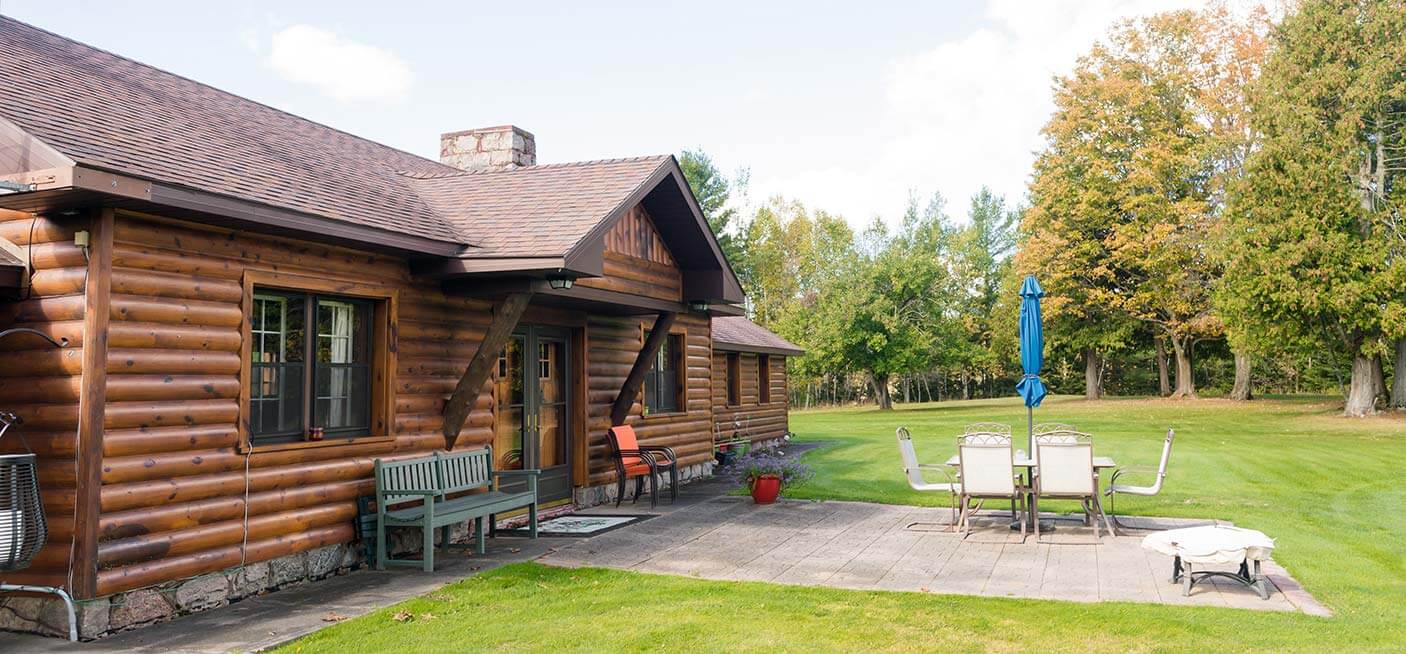 Young's Iron River – Cabin Getaway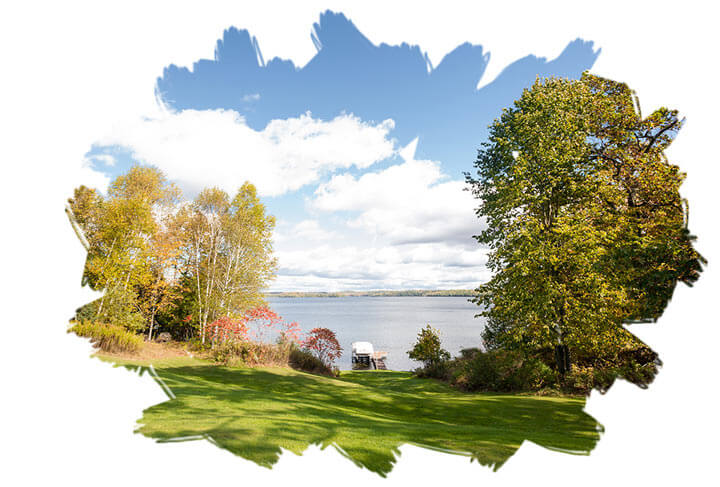 Stay at our log cabin on beautiful Chicaugon Lake! With easy access to Young's 18-hole golf course, aquatics center, and miles of recreational trails, our 3-bedroom, 1.5 bath cabin is the perfect place for a family-friendly getaway or golf outing with friends!
Our comfortable cabin, filled with rustic charm, can accommodate up to 10 people. A spacious great room with floor to ceiling stone fireplace, full kitchen, and spacious patio overlooking Chicaugon Lake provides plenty of room for fun with family and friends. Enjoy a private boat dock for your own vessel, or rent our 10-passenger pontoon boat for a relaxing day of boating and fishing.
Cabin Amenities for Stay Upper Michigan
Discounts on golf packages and dining
Swimming access at Young's aquatics center
3 bedrooms and sofa beds
Full kitchen with microwave, stove, plenty of storage
Free Wi-Fi and Direct TV
Floor to ceiling stone fireplace
Large rustic living space
Patio with seating overlooking Chicaugon Lake
6-burner outdoor BBQ grill
Outdoor fire pit (firewood provided)
Small private beach
Private dock and boat access
Stay and Play Package Benefits
The Young's cabin is available to reserve each season starting May 18th.
$400.00 per night
$350.00 per night when booked for 7 nights or more
$300.00 per night when booked for 30 days or more
All bookings require a $500 refundable deposit when making the reservation.
YOUNG'S FAMILY CABIN PHOTO GALLERY

AREA LODGING PARTNERS
Chicaugon Lake Inn - Iron River
Chicaugon Lake Inn 2019 Stay and Play Package Prices
Sunday - Thursday
1 Person $115.00 plus tax ($152.00 Value)
2 Persons $160.00 plus tax ($219.00 Value)
Friday & Saturday
1 Person $125.00 plus tax ($162.00 Value)
2 Persons $170.00 plus tax ($229.00 Value)
Whirlpool King Room
1 Person $150.00 plus tax ($182.00 Value)
2 Persons $195.00 plus tax ($249.00 Value)
Package prices above include room fee, 18-hole green fee, cart fee, driving range token and a daily swim pass.
Chicaugon Lake Inn Amenities
Free Wi-Fi & Satellite TV
Refrigerator & Microwave
Free Breakfast
Luggage Storage
Pet-Friendly Rooms
Just 1 mile from the Young's, the Chicaugon Lake Inn is open year-round so you can always enjoy great fishing, golfing, boating, swimming, hiking, snowmobiling and skiing at an affordable price.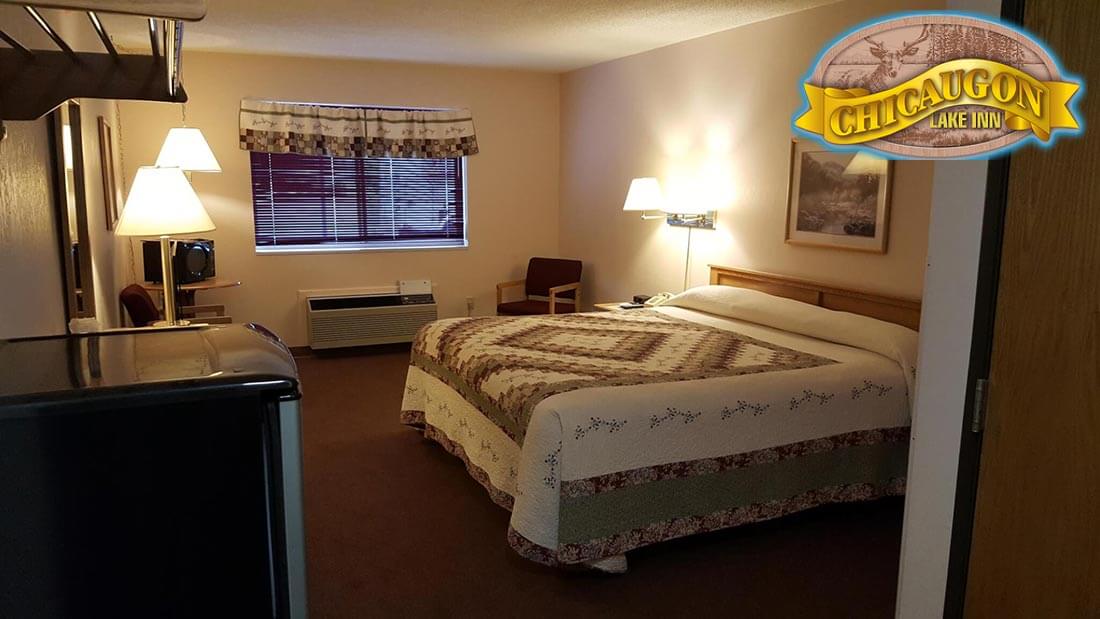 AmericInn 2019 Stay and Play Package Prices
Standard king or queen room
1 Person $160.11 plus tax ($198.90 Value)
2 Persons $205.11 plus tax ($265.90 Value)
2 Room Suites and Whirlpool Rooms available at an additional charge. Please call AmericInn for pricing and availability.
Package prices above include room fee, 18-hole green fee, cart fee, driving range token and a daily swim pass.
AmericInn Iron River Amenities
Complimentary breakfast
Free Wi-Fi
On-site laundry facilities
Indoor pool
Fitness center
Located in the heart of Iron River, the AmericInn is less than 10 miles from Young's and open year round.