ABOUT OUR COURSE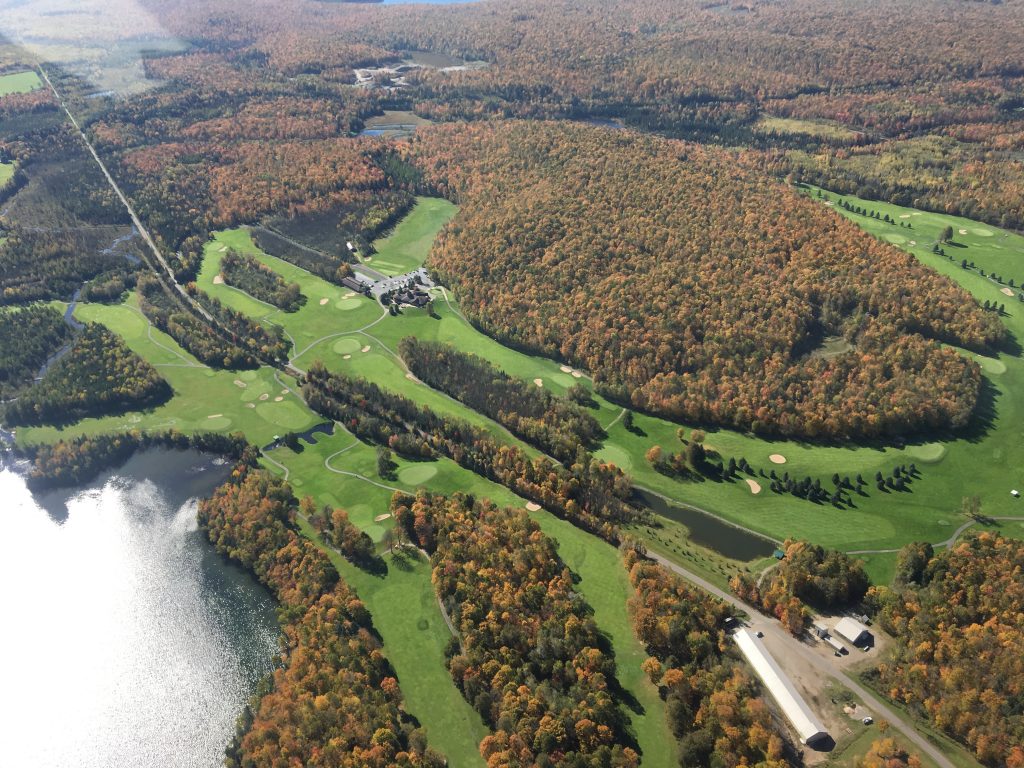 Course open as of 5/4/2020
Golf at Young's – a Truly Special Experience
18-Holes of Northwoods Golf
Golfing at Young's 18-hole championship course is a special experience. Pristine greens, views of shimmering Chicaugon Lake and the serenity of beautiful Upper Michigan forests elevate your golfing experience. Whether you're planning a golf outing for a foursome, a party of twelve or a charity golf tournament, an exceptional time awaits you in Iron County, MI. Plan your Young's golf outing and prep your golf game with our virtual caddy experience! Keep scrolling to get tips and experience a fly-over of each hole!
George Young Golf Course Revitalized
Young's was founded by George & Margaret Young, who generously donated their 3000+ acre estate and established a trust so it could remain an affordable golf and recreation destination for visitors and residents of Iron County. Our management and staff continue this mission with a focus on gracious service and maintaining an atmosphere that welcomes golfers, swimmers, and outdoor enthusiasts of all ages. In keeping with the Youngs' vision, Iron County residents enjoy discounted greens fees and membership rates, and Iron County juniors (18 and under) golf for free.
HOLE FIFTEEN
Par 5
Length: 538 yards
Description: This tee shot is a risk-reward – lay up with a long iron or swing away with the driver. Avoid right-side trees in the rough. For most, the second shot will be a layup just short of the fairway bunker. The third shot is into an extremely elevated green. Avoid missing long or right.

MEMBERSHIP & RATES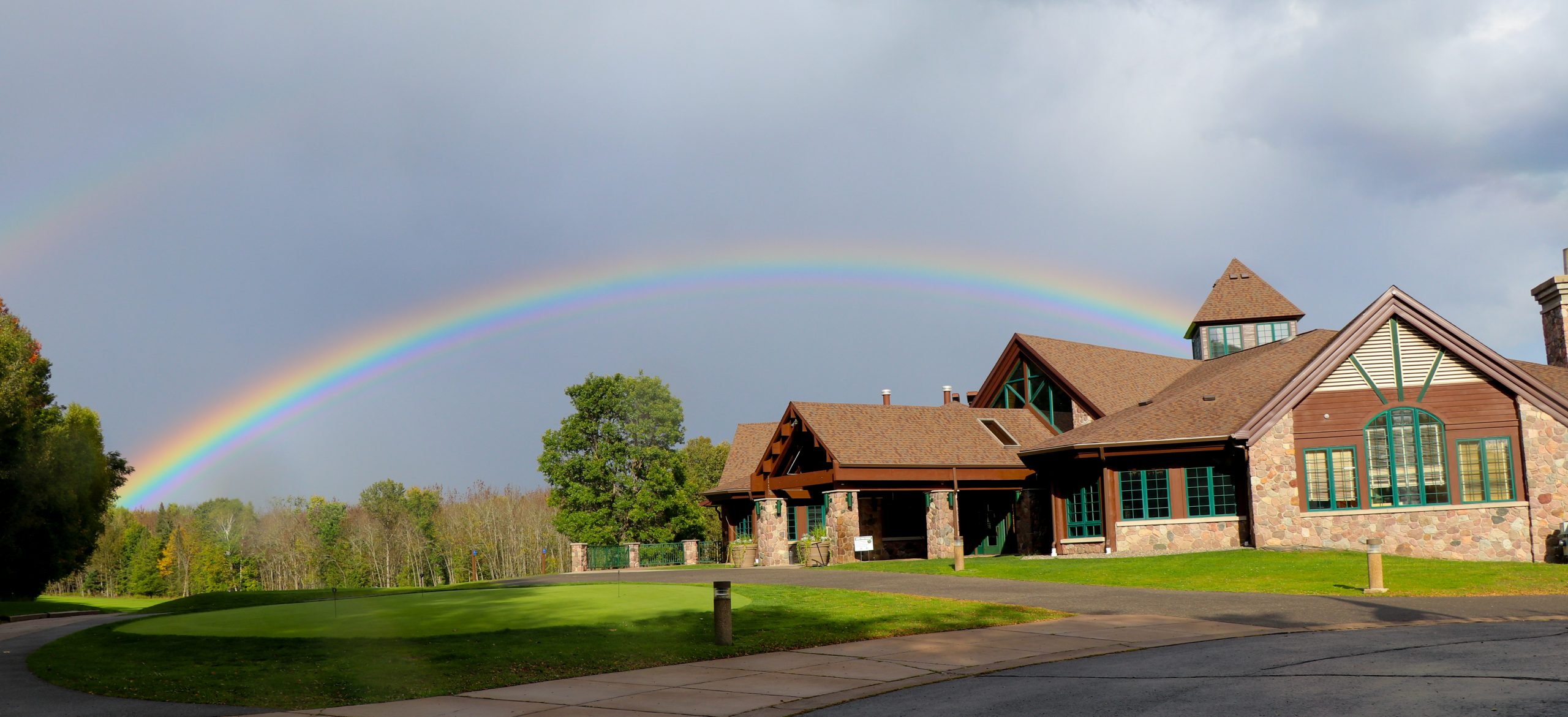 Golfing at Young's - Iron County
Memorable Play for Beginners and Golf Pros
The Young's golf experience is designed for golfers of all ages and skill levels. For the casual or novice golfer, Young's is a great place to improve your golf game, where each of the 18 holes call for a different approach. The Young's course is also a regional destination for championship golf, offering advanced golfers challenges such as blind greens, doglegs and deep bunkers. After your round of golf, come back to the clubhouse to relive the drives, chips and putts over drinks and a great meal at the FireBrick Bar & Grill.
Play Young's 18-hole championship golf course as often as you like as a Golf Membership holder. Memberships are available for individuals, couples, families, and college students. Young's Golf Members also enjoy 20% off on regularly priced merchandise in the Pro Shop (excludes sale merchandise, food, and beverages). Enjoy championship golf at a great value!
See additional details below pricing table for applicable restrictions and rules of play.
YEAR-ROUND UP MICHIGAN GOLF & RECREATION
Young's offers far more than golf! We have miles of recreational trails for hiking, biking, skiing and snowshoeing; an Aquatics Center with lap pool, jacuzzi, and sauna; lakes and waterways for canoeing and kayaking and so much more! Check out our All Season Memberships for unlimited access to Young's 3000+ acres of golf and recreation!
Be sure to check out the All Season Recreation Membership
Type
Iron County Resident
Non-Resident
The Anytime Membership
Individual
$700.00
$800.00
Couple/Parent & Child
$1000.00
$1,100.00
Family
$1,100.00
$1,200.00
College
$385.00
$450.00
Specialty and Add-Ons
**Corporate
$550.00
$550.00
1-Day a Week
$350.00
$375.00
Electric Golf Cart Storage
$205.00
$205.00
Gas Golf Cart Storage
$155.00
$155.00
Handicap
$39.00
$39.00
Unlimited
Driving Range
$105.00
$130.00
Spring Rates (Open to 5/31)
18 Holes w/cart
$35.00
$45.00
18-Hole Replay
$25.00
$32.00
Peak Rates (6/1 to 9/18)
18 Holes w/cart
$50.00
$65.00
10 Holes w/cart
$35.00
$45.00
18 Holes walking
$40.00
$50.00
10 Holes walking
$25.00
$30.00
UPGA Rate
$35.00
$45.00
After 3:00pm Special
$35.00
$45.00
18-Hole Replay
$30.00
$35.00
*Jr. Rate (18 and Under)
$0.00
$20.00
Fall Rates (9/18 to Close)
Unlimited Play
$35.00
$45.00
*Jr. Rate (18 and under)
$0.00
$20.00
* Iron County resident juniors (18 and under) play free Monday – Thursday. On Fridays, Saturdays, and Sundays juniors can play free starting at 4:00 pm.
**$500 per employee on Corporate Golf Membership. Benefits include the discounted membership rate, 20% off in Pro Shop, employee's guests play at reduced rate, access to Young's event venue with no rental cost (restrictions apply). Call us today at 906-265-3401 to learn more.
Special Notes:
Singles and twosomes will be paired with other players to complete foursomes on the tee sheet. This will be done at the Pro Shop's discretion based on tee sheet levels, but will be enforced on the busier days of the week (weekends, holidays, etc.).
Those with a once-a-week membership cannot play on Fridays and Saturdays.
Members can only book tee times 2-weeks in advance.
Iron County Daily Resident Rate is good Sunday - Thursday (any time) and Friday - Saturday after 4 pm.
REMEMBER:
Young's strictly enforces a no carry-on policy. Per state law, under no circumstance are guests allowed to bring in their own alcoholic beverages. If a guest or member is caught with their own beverages they will be suspended from the course for a week. If they are caught a second time they will be suspended for the remainder of the season. No refunds will be issued.

GOLF OUTINGS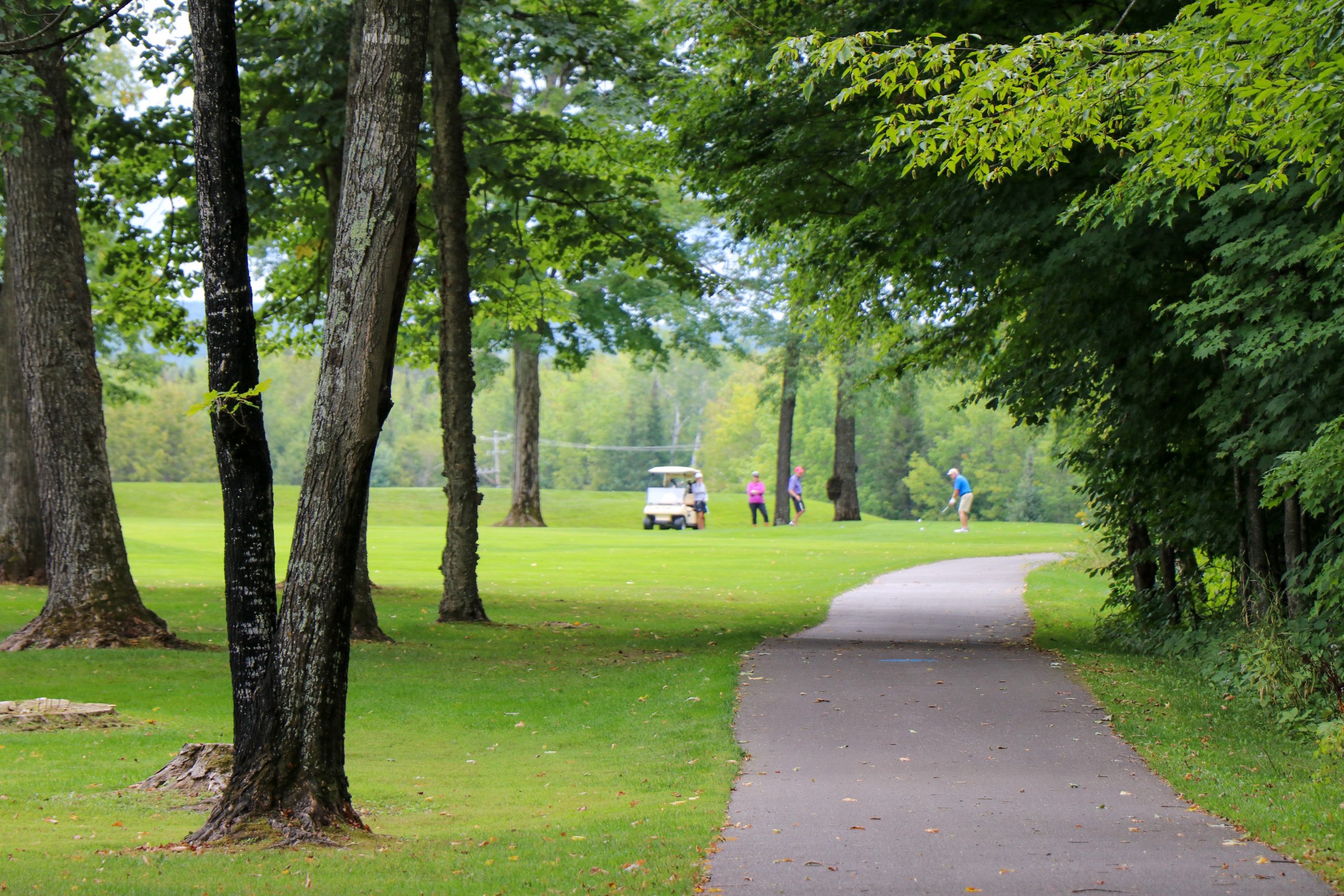 Small groups, large groups, and tournaments receive guidance from our professional tournament coordinator who offers pre-event consultation and planning to make sure your outing is a success. We'll build a package that specifically meets your needs.
Personalized proximity markers

Score sheets

Individualized rules sheets

Personalized cart assignments

Tournament scorecards

Rules, pairings, contest rules, and score posting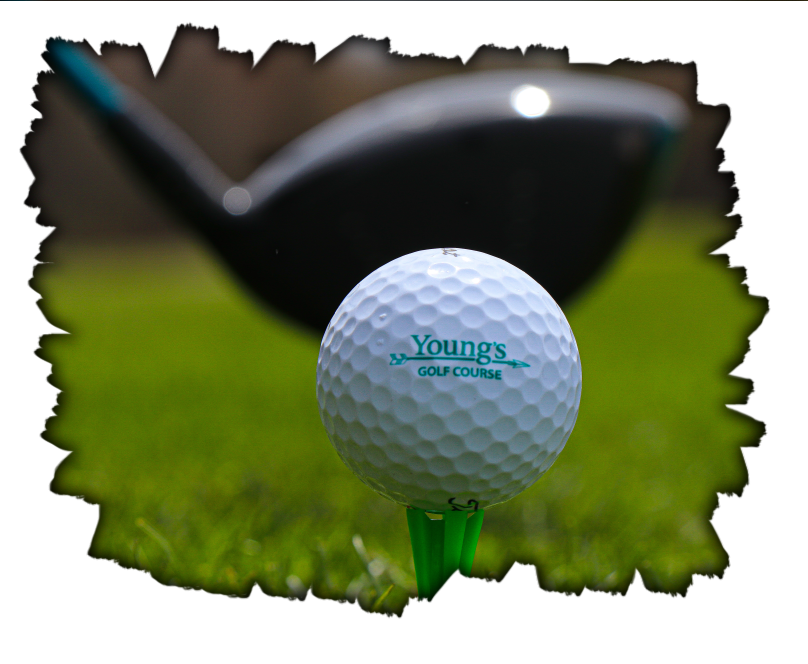 A small group golf outing is a fun way to celebrate with members of a wedding party, a bachelor or bachelorette party, class reunion or family gathering. Blue skies, sunshine and friendly competition on the links make any day more memorable.
Corporate & Large Group Outings
Larger groups will receive personalized attention to plan a seamless experience. A golf tournament or outing offers a perfect backdrop for informal negotiations, sales pitches, or team building. If your group is having a meeting or conference at Young's, a round or two of golf is a must.
Charity & Fundraising Events
Each year, we support the efforts of local associations, schools and non-profits by hosting tournaments that raise money for important causes. Our experienced team will help you plan a fundraising event that's both fun and fruitful.
Charity & Fundraising Events
Are you new to golf or just looking for a low-key, relaxed experience? The increasingly popular Social 10 is casual, unintimidating, and perfect for a group with mixed abilities.

GOLF EVENTS

BOOK A TEE TIME

PRO SHOP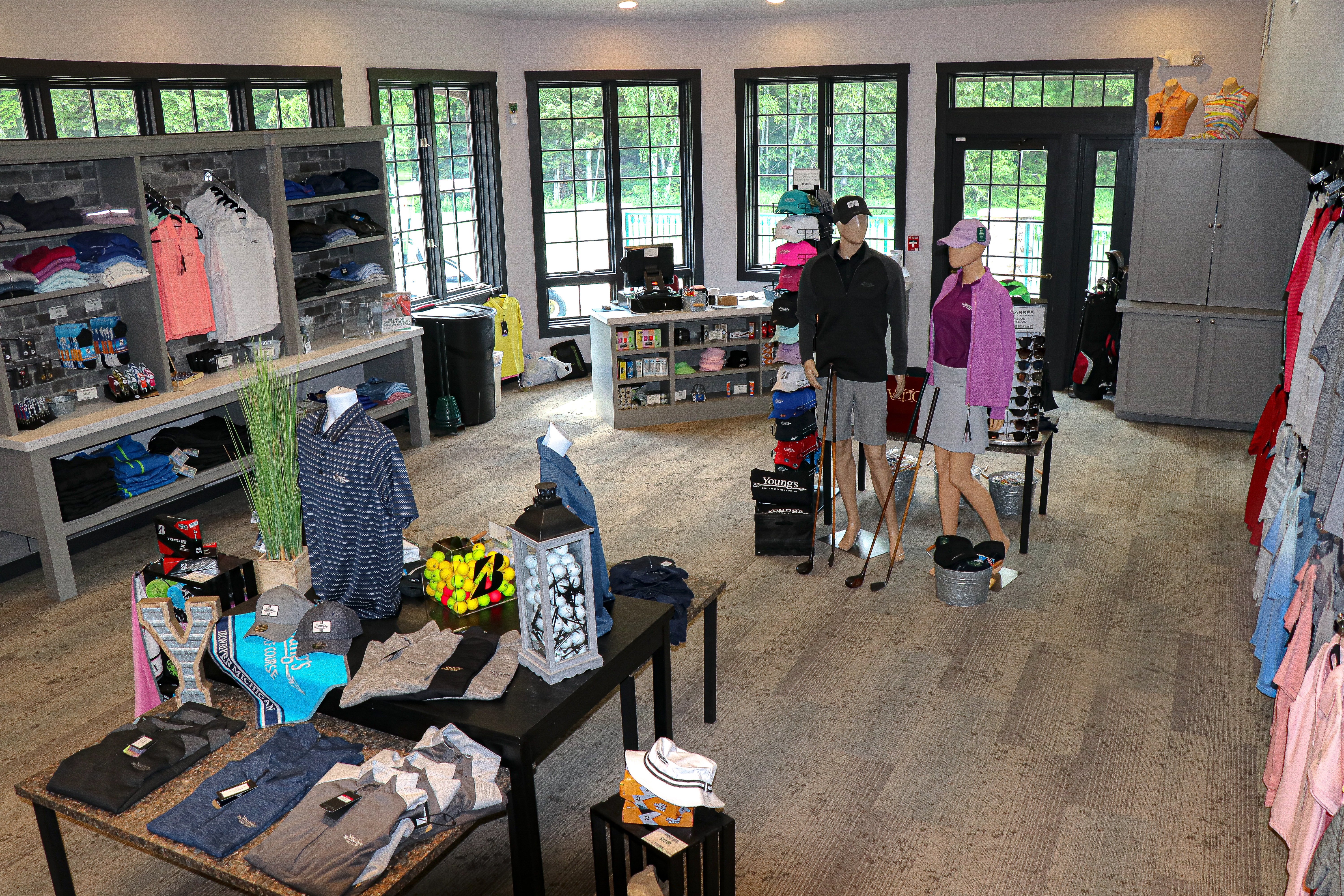 A Great Golf Game Starts at Young's Pro Shop
Young's management and staff are here to make sure you have a wonderful Young's experience. Stop by the Pro Shop to check in for golf and trail use, and browse through our selection of name-brand golf equipment, apparel and accessories. Our friendly and knowledgeable staff will take care of all your golf needs.
Check in before your round
Check in prior to using trails
Book a tee time
Rent a golf cart
Rent golf clubs
Buy golf apparel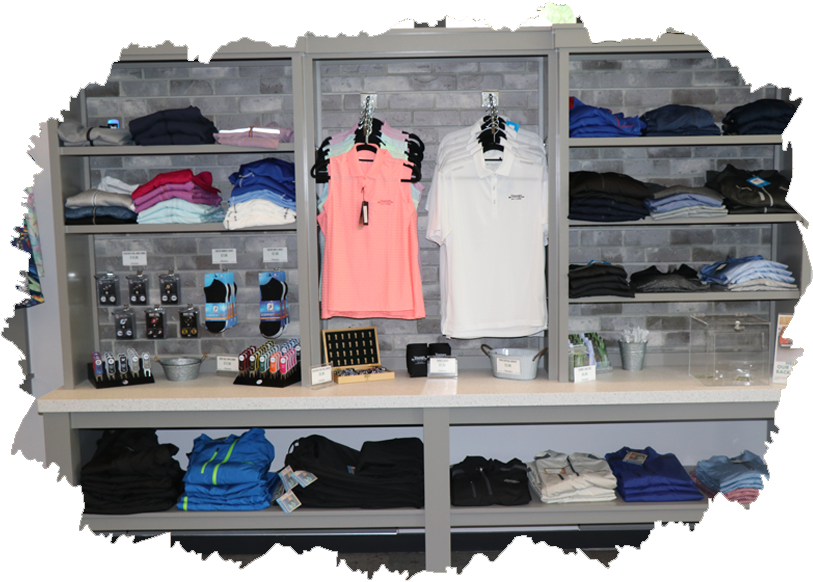 Our Golf Apparel and Equipment Brands: